This project is a waste of entertainment, but only on the surface. You might say it's the work of tireless parents who want to keep their child occupied with something interesting, at least for a little while their parents are doing important things.
The most important purpose and essence of any game is continuing education and learning the key life skills of a child.
However, sometimes many adults also play games, and then games appear that are not intended for the level of development of children's thinking.
This means that adults, in the form of leaders and developers, have decided to teach citizens the key skills of public life, so far not very popular in the adult population.
For example, they have developed game simulations of a small business accountant or an economist, investment games with the withdrawal of money. All of this was created to increase low financial literacy among the general public, which often makes many regular people the victims of financial thieves.
The developers created The Political Process game to increase literacy in social relationships. As a consequence of this game, the commoners will no longer be victims of political manipulation, which always carries with it the risks of the reign of chaos within the state, which will make it lose its economic and military power and fall prey to the geopolitical opponents of it.
Both simulator and strategy
Politics is a strategic game without sentiment. One famous leader said that there is no friendship in politics, and there are only personal interests.
Steam gives a 9.6 out of 10 points to this game. This rating is made up of numerous user ratings and this number means that it is an incredibly successful game that users liked.
The official description of the Political Process project states that, in this game, you can:
Create individual characters of politicians (i.e., characters).
Organise an office of a politician (i.e., a team).
Writing bills and promoting them.
Manage the party budget.
To advance in the hierarchy of power.
In past times, adult people who wanted to get rich and become respected members of society or even take a decent social position played only in «Monopoly».
Now, computer games have become much deeper and more complex, and they have become more beautiful and complex in terms of graphics. They also give the user more options.
You should experience the entire gamut of The Political Process simulation before hating a politician for vague and harmful legislative initiatives. The developer of this amazing project called Verlumino Studios LLC also thinks so.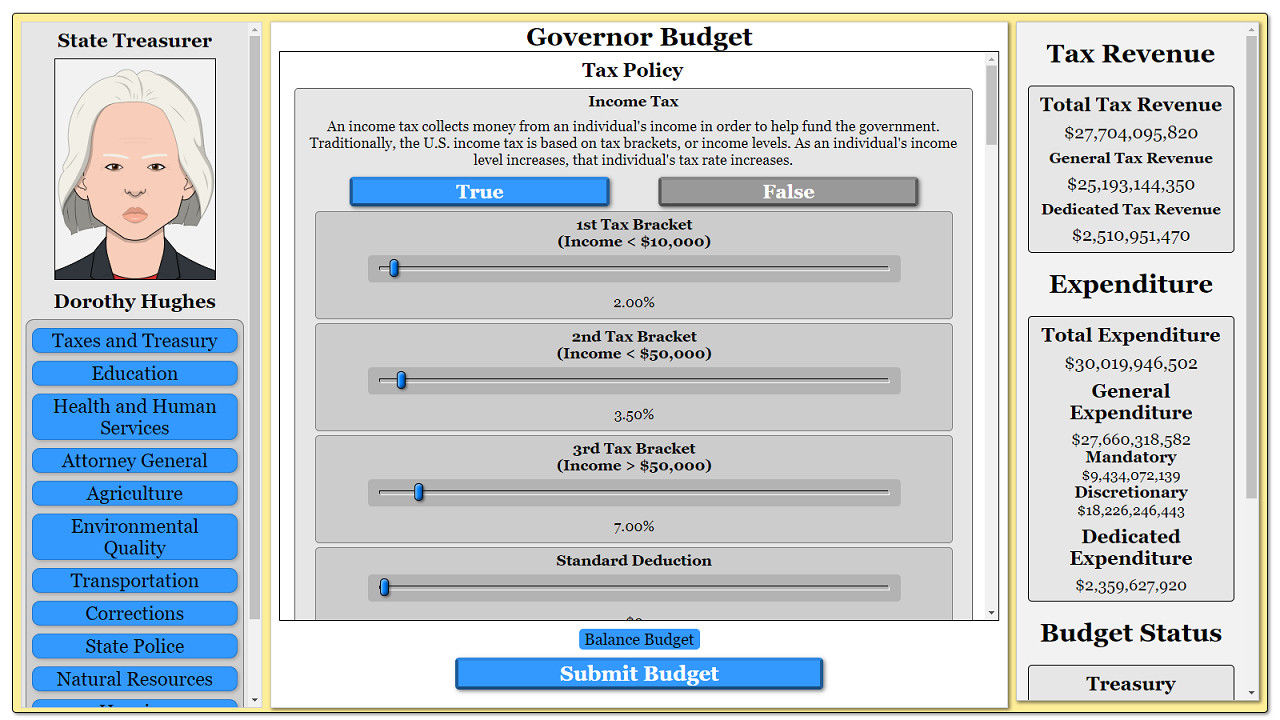 Optional choice
You can shape the appearance, character and behaviour of a politician's character in any way you want. Among the available political models, there are:
Republican.
Democrat.
Libertarian.
You can also choose from a few dozen positions in the power structure, ranging from social and social activism to working in fiscal institutions. Taxation is also a policy. In order to disrupt or boost a country's economy, sometimes all you have to do is enact one special taxation law for systemically important industries.
However, there is one thing that seems implausible in the gameplay of this game. It is that the character has complete freedom of decision and action. In real politics, there is no freedom of action. Behind every public politician, there are always some underhanded forces. Modern media say that it is a «shadow government».
The lobbying institute will certainly make you happy. Politicians promote laws that are better paid. Without sufficient funding, any political office will not last long and a politician will not be able to ascend the ladder of power.
The gameplay is as close to reality as possible. There are 50 states and 3,000 counties where the character can start his career. He also has the right to be elected to one of the nine positions of power, including the President.
The Political Process is an ideal option for those gamers who dream of a career as a politician because they can experience all the peculiarities of this occupation on their own.